Big Local In Bloom 2017
Big Local in Bloom Gardening Competition
The Environment is a very important area in the Big Local Plan. There was a lot of interest in using some of the money to make where we live better.
The Grace Mary to Lion Farm Big Local Partnership launch an annual Big Local in Bloom competition. Prizes are awarded for the most improved gardens and balconies in the Big Local area. 'Before and after' Photographs are taken of all gardens and balconies belonging to people that enter the competition.
Application Deadline Friday 26th May 2017
For an application form or to find out more please contact Kate Cross at Lion Farm Action Centre, Harry Price House, Hartlebury Road, Oldbury, B69 1EQ. Call 0121 544 3094 or email kate.lfac@yahoo.co.uk
Big Local in Bloom Poster Competition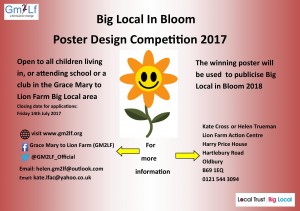 Open to all children living in, or attending a school or a club in the Grace Mary to Lion Farm area. 
Prizes will be awarded for first, second and third and the winning poster will be used to publicise Big Local in Bloom 2018.
Application Deadline Friday 14th July 2017