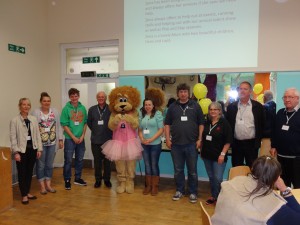 To mark the start of the UK's national Volunteers' Week, Grace Mary to Lion Farm Big Local held their own party 'Celebrating our Volunteers' on Wednesday 1st June 2016 at St James Church in Oldbury.
The event was held as a way to say 'Thank You' and to recognise the outstanding contribution which is made by volunteers in the area.  These people are a shining example of how we can all make a big difference to other people and the communities we live in every day.
A Big Contribution deserves a Big Recognition!
Well done to the GM2LF Big Local Star Volunteers 2016
Bobbie Sumners Tyers
Catherine Pierpoint
Chloe Atkiss
Daniel Lowe
David Allen
Dorothy White
GM2LF Big Local Partnership Board
Joanne
John Price
Kirk Harrison
Leslie Hutchinson
Lynne Jenkins
Pauline Parkes
Ryan Wood
Sharon Offley
Stacey Rushton
Thomas Weir
Tori McGinty
Tracy Lowe
Vicky Jones
Zena Hanney
Thank You….
GM2LF Big Local would also like to thank St James Church for hosting the party, Memories Cards, Gifts and Balloons for the party decorations, the Phoenix Pub for providing the lunch, Gurbax Bajwa from Activate MBT CIC for the relaxation session and Tom and Brian Weir for photography.
More photos will be on our website and Facebook soon…so please tag that volunteer who is a shining star! They deserve the recognition!