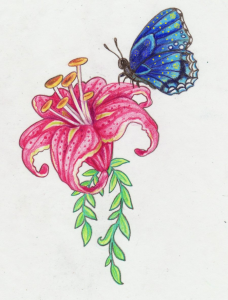 POSTER DESIGN COMPETITION 2016
Alongside our garden competition GM2LF would like to introduce a competition for the young and enthusiastic artists of the big local area!
Children of all ages who live in or attend a school or club in the Grace Mary to Lion Farm area are invited to submit a colourful, eye-catching painting of flowers seen outside in summertime. The entry chosen as best overall, will be used to illustrate a special poster to publicise next year's Big Local in Bloom Competition.
The posters will be judged in three age categories of entrants, (see below). There will be a winner and two runners-up in each age category, plus an overall winner. All these 9 top entries will go on exhibition at special events during the year.
Categories
Overall winner              All Ages

Category A                   Under 6 years
Category B                   7 – 11 years
Category C                  12 – 16 years
The awards for each of the Top 9 selected across all 3 age categories will receive a Big Local in Bloom certificate and a voucher for a local toy store. Award winners will be invited to a special ceremony. The Overall Winner will also receive a unique trophy to treasure for a lifetime.
CLOSING DATE FOR ENTRIES IS FRIDAY 15TH JULY 2016.
Rules for Entering
You must live, attend a school, or club within the GM2LF Big Local Area. (See attached area map)

Pictures may be in paint, crayon, ink or felt pen (but not computer generated) on a sheet size

A4 maximum,

this

must not be mounted.

Award winning entries will be retained by GM2LF Big Local and may be put on display or future promotional material.

Poster entries can be collected from Lion Farm Action Centre (address below), once the competition is over.

Your entry must be submitted to the address below by

Friday 15th July 2016

.

You must affix a label or write directly onto the back of the picture stating:
Your full name (in capitals)

The age (in years) you will be on Friday 15

th

July 2016

The name of your school, club or where you live.
(Entries without all these details will not be entered)
Contact details

: To help us notify you of a winning award, please enclose a note giving the name, phone and email address of your parent or guardian.
The address for entries is:
Poster Design Competition
Grace Mary to Lion Farm Big Local
Lion Farm Action Centre
Harry Price House, Hartlebury Road, Oldbury, B69 1EQ