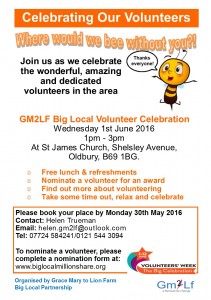 GM2LF Big Local Partnership invite you to join them at a Big Local Volunteer Celebration on Wednesday 1st June 2016, 1pm – 3pm at St James Church, Shelsley Avenue, Oldbury, B69 1BG.
The event is being held as part of Volunteers' Week, which is an annual celebration of the fantastic contribution millions of volunteers make across the UK.
Do you know a volunteer that deserves recognition?
Over 21 million people volunteer in the UK at least once a year and this contributes an estimated £23.9bn to the UK economy. Behind these big numbers is a big contribution which is worth celebrating.
If you know someone who volunteers in the Grace Mary to Lion Farm Big Local area you can nominate that person for a special recognition prize. Please complete the nomination form here.
We hope to see you on Wednesday 1st June!
For catering purposes please book your place by Monday 30th May 2016.                   Email Helen Trueman at helen.gm2lf@outlook.com