To mark the UK's National Volunteers' Week, Grace Mary to Lion Farm Big Local held their own Volunteers' Party on Tuesday 6th June 2017 at Rounds Green Library in Oldbury.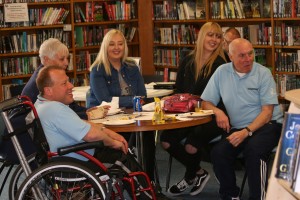 The event was held as a way to say 'Thank You' and to recognise the outstanding contribution which is made by volunteers in the area. These people are a shining example of how we can all make a big difference to other people and the communities we live in every day.
Well done to the GM2LF Big Local Star Volunteers 2017!
Angel Walker

Bobbie Summers Tyers

Catherine Pierpont

Charlotte Johnston

Chloe Atkiss

Chris sale

Dorothy White

Jenny Chidley

Jill Macdonald

John Macdonald

John Price

John Totney

Joshua Kettle

Kirk Harrison

Les Cross

Leslie Hutchinson

Lil Jones

Louise Ward

Lynne Jennings

Mark Aston

Martin Floyd

Phil Grafton

Sharon Chatwin

Thomas Weir

Zena Hanney
 To see more photos from the party please visit our Gallery page.