Online computer courses will be delivered in venues across the Grace Mary to Lion Farm Big Local area from September with the Learn My Way website which uses online courses for people who want to learn more about using a computer.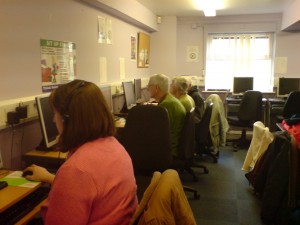 The courses are free and are for people who live, work or volunteer in the Grace Mary to Lion Farm area. The courses are for all abilities from the absolute beginner, including how to use a mouse and keyboard to those who want to brush up their skills in certain areas of I.T. such as using social media, sending and receiving emails or using NHS online services.
The courses are divided into sections to make them easily accessible and cover a variety of subjects including how to use the internet safely and how to use government websites, including Universal Jobmatch for those looking to get back into work. There is an option to use headphones to listen to instructions as the course is displayed on the screen.
The courses are delivered in a relaxed atmosphere, and there is always support available from onsite course facilitators.